This page is property of Alittlebitofcyanide and Jazzy
What is the Backdoor Club?
Well, it's the first ever OC club to boot on this Wiki, which I am very proud of. Want to join the Backdoor Club? All you have to do is either message me or Jazzy about it then we'll message you back if you got it.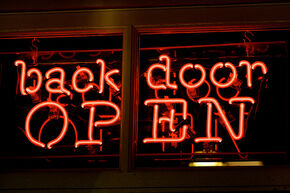 The Backdoor Club is a place where users can get together and make the most outrageous, or even epic collaborations that are about the Inheritance Series. The current story will be posted below as well as the current members.
Remember, in this OC anything goes, except for maybe a lemon part. That's kind of weird. But anyways, the only rules are to respect each other and their work. Thanks for listening. Cyanide out. ♠♣♥♦ 05:00, February 27, 2012 (UTC)
Current Stories
Edit
This is the first ever OC club in this wiki!
It is probably the most spontaneous as well!